DIY Carpet Cleaning Products.
These Few Cleaning Products Will Get Your Carpets So Very Much Cleaner.
If you want to clean a carpet there are a few items which you'll find most useful. To run out and buy what you need without a little information would be unwise. For anyone who wants to clean a carpet, it's important that you know what you will be doing. Then you will have a better understanding about what carpet cleaning products you'll need for a great result.
It is my desire, to part to you, a system for carpet cleaning which always gets optimum results. Whether your carpet is almost black or just mildly soiled.
The diy carpet cleaning products available on this page are available in the UK. Below is links to products in the USA too.
The system which I'm going to tell you about is a pre-spray and brush agitation method. For this kind of DIY carpet cleaning you will need a few simple carpet cleaning products. I'm not going to tell you that you need a load of high priced techno stuff. You'll need just a few low cost tools that you can get from almost anywhere, or click products for carpet cleaning.
How the system works, is simple. You just prepare your carpet by thoroughly vacuum cleaning. Then you treat spots and stains with the relevant solutions. The pre-spray solution will deal with most stains and is sprayed on to your carpet via a pump up pressure sprayer. All major hardware stores stock pressure sprayers. They cost anything from £10 – £1oo's. We just want a £10 cheap one for our needs.
The carpet pre-spray solution you can get from any good cleaning supplies store or janitorial supplies. While your there, get a carpet rinse solution too. These items come in 5 litre containers and cost less than £20.
Anyway, back to pre-spraying. It's really just a simple matter of spraying your carpets in small sections about 4 ft square. You then use a special brush which is called a Carpet Pile Brush. You get this item from your cleaning supplies store too. You won't get a Carpet Pile Brush from any other source. You must get one from a cleaning supplies store. Just ask.
Having pre-sprayed your carpet, the brush is used to agitate the pre-spray solution into your carpet pile. The soils in your carpet are loosened and separated from your carpet pile. Once you are satisfied the soils are loose, you simply switch on the extraction machine and rinse your carpet through.
Don't ever think that a small DIY carpet cleaning machine will clean a carpet thoroughly, it won't. Not without saturating the carpet.  It's this system which will use less than half the average amount of water. You won't be repeatedly going over and over your carpet trying to suck out the soils. Hence, you get no over wetting.
Simply repeat the process of spray, agitate, and rinse until your done. Your carpet will dry quick and bright and you won't get re-soiling problems either. Please use the DIY Carpet Cleaning Products which I've suggested. You'll get great results if you do.
For DIY carpet cleaning equipment in the USA, go here.
Best of luck 
Shane Daley
Summary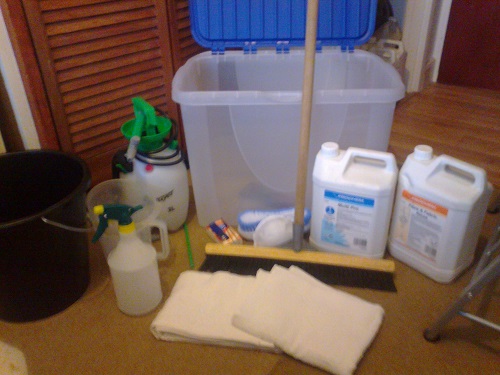 Author Rating





Brand Name
Product Name
DIY Carpet Cleaning Products
Price
Product Availability
If you enjoyed this post, please consider to leave a comment or subscribe to the feed and get future articles delivered to your feed reader.
71 Comments
Leave Comment