How To Use A Carpet Pile Brush
A carpet pile brush is very easy to use. It will clean your carpets thoroughly before you rinse extract with a carpet cleaning machine. In all the years I've spent cleaning carpet, so far I have yet to find a more simple and effective way to clean a carpet. This carpet pile brush will clean any carpet, from a lounge room carpet to a bathroom carpet.
The idea is, that you pre-clean your carpets before using an extraction machine for rinsing.
By per-cleaning, I mean that you pre-spray your carpets and brush agitate. Then you can use a soil extraction machine with a rinse solution in the tank. So its spray, brush, rinse. very simple and very effective. You probably won't find a more effective way to clean your carpets this side of a truck mount system which is very powerful indeed.
The cost of a carpet brush varies from £20 – £27. You can actually order one below for just £24 vat included.
Watch the video and then decide whether the carpet pile brush will clean your carpets and it is right for you. If it is right for you, simply make an order below.
I hope you enjoyed the video. I also hope that you've decided that a carpet pile brush is a worthy tool for cleaning your carpets. Like I say, you'll only ever need one carpet pile brush. If you keep using this pre-spray – brush agitation system for carpet cleaning, you'll get fantastic results every time you clean.
You can easily have a good system which you can use always. So why not make an order for your carpet cleaning pile brush now? This one system will be all you'll ever need.
Take a look at my sales page which has a complete range of DIY carpet cleaning products. You'll find everything you need there.
Or, order your carpet pile brush here for just £24. Plus, you'll get;
Hot line telephone support.
E mail support.
Order your carpet pile brush here for just £22.23.
Summary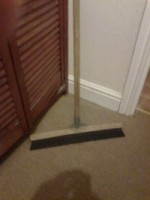 Author Rating





Brand Name
Product Name
Price
Product Availability
If you enjoyed this post, please consider to leave a comment or subscribe to the feed and get future articles delivered to your feed reader.
7 Comments