Carpet Cleaners For Hire.
Where Ever You Find Carpet Cleaners For Hire, Always Think  DISCOUNTS!
This tactic is very available to everyone. Unfortunately though, few people are aware of it. To explain it more for you in detail, I'll give you an example.
Many years ago in my business, I used a machine hire company who had carpet cleaner machines for hire. I was just getting started with my carpet cleaning service. I had only a carpet soil extraction machine at the time. Many of my customers wanted me to do carpet maintenance. But I did not have a carpet buffing machine, hence, I used a machine hire shop.
Now the main element in this example is this; I got 30% discount on the price of the carpet cleaner machine hire. You think about that, 30% discount! At the time, I think the carpet cleaning machine hire was priced at £24 per day. £80 per week and about £130 per month.
Now, I used the carpet buffer machine a lot. In fact I was hiring almost every week, sometimes even for a whole month. The good news in this example is the savings I accounted. Lets say for this example I hired the carpet buffer machine every quarter, total price without discounts £400  every 3 months. But now, take a look at my carpet cleaning machine discount savings, – it was £120!
Simply
Ask

For Your Carpet Cleaning Machine Hire Discounts.

All you need to do to get up to 30% discount yourself, is ask! You see, these machine hire shops want your business. They don't want you going off some place else for cheaper carpet cleaning machine hire, they want you to hire a carpet cleaning machine from them and regularly too.
How you can do it, is like this.
You frequent the machine hire shop at least two or three times to hire a carpet cleaner machine. But do make absolutely certain that the cleaning machine you hire is right for you. If the hire shop has a variety of carpet cleaning machines available to you, that's even better.
After you've hired a machine a couple of times, next time you frequent the hire shop, just simply ask for a discount. They may ask 'are you a tradesman?' Be honest. Tell them if you are and if your not, tell them. Of course it does make things easier if you are a tradesman, but don't worry about it. You may well not be a tradesman, but you are serious about hiring a carpet cleaner machine regularly. Tell them that you are serious. Tell them you'll hire a carpet machine from them a couple of times a year at least.
Get Acquainted With Staff, Be Friendly With Friendly Staff, Particularly The Shop Manager
Don't rush into this idea too quickly. Make certain that they are getting to know you at the hire shop first. If after you've asked for your discount, they have flatly refused you, consider moving on. The reason I say this is because 30% discount on a carpet cleaner machine hire is very useful. If you use the same hire shop for 10 years 2 times per year, that's a hefty amount of money.
Give this idea a go. You've got nothing to loose and a substantial amount of money to gain. Simply, ask for it.
If you are in the UK, I have carpet cleaners for hire. Click  hire a carpet cleaner machine.
Outside the UK but you want help with
gathering a carpet cleaning hire machine and equipment? Go here to a service I call  'equipment scout'.
Summary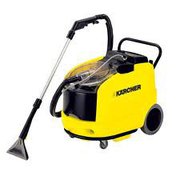 Brand Name
Carpet cleaner machine rentals
Product Name
Price
Product Availability
If you enjoyed this post, please consider to leave a comment or subscribe to the feed and get future articles delivered to your feed reader.