Here's how to use the pet hair remover brush.
This tool should be used on carpets and the small hand brush is used for upholstery. It can be really messy when you try to clean your carpets and there's a ton of pet hairs tangled up in the fibers.
The pet hair remover brush will effectively remove the hairs from your carpets and suite. Gradually bit by bit you brush them into a pile on your carpet or upholstery. You simply just brush a bit at a time so that you can effectively get all of the pet hairs into a pile.
How I normally do it is to simply use the pet hair remover brush on a small area at a time, about four feet on carpets.
Brush all around your small area and  gather the pet hairs into a pile. Then move on and do another small area. So, you should have a few or more small piles of pet hairs about 4 or 5 feet distance from each other.
When you think you have cleared your carpet of hairs, you simply just vacuum clean the piles of pet hairs up in to your vacuum cleaner. The pet hair remover brush has electro static rubber fibers and it is through these rubber fibers that it can collect the pet hairs from your carpets or suite.
I have yet to find a better way to remove pet hairs from carpets and suites.
Vacuum cleaning on its own will not do it. You'll be vacuum cleaning for ever more. Pet hairs get seriously tangled and knotted into your carpet fibres every time you walk across your carpet or sit on your suite. Vacuum cleaning on its own is not the best way to remove these knotted hairs. In fact, you vacuum cleaner is often rendourd useless.
If you have a pet that is molting or as most pets do, they molt at certain times during the year. Then investing in these brushes will help you keep the problem at bay. Having pet hairs on your cloths is a nuisance. And sometimes you just brush and brush and the hairs just don't come off.
Also, the pet hairs seem to find their way to every nook and cranny of your home. In fact, every place that your pet has access to, you'll likely find more pet hairs. Not only that, but how about when your good friends come round to see you? Obviously they too are going to be collecting pet hairs on their cloths too. Its an unavoidable problem.
What is most important to remember is the price of these magic little tools. When you consider the problem of pet hairs in your home. Consider all of the problems it causes. Consider the problems of pet hairs long term. Then I'm sure you would agree that for a little over a tenner, you could well be virtually PET HAIR FREE!
Also, these tools are very sturdy. They won't break or wear out. If you look after them, they should last you for a lifetime. I've had my pet hair remover brushes for 20 years and I clean carpets most days!
The pet hair remover brushes vary in price.
Its always best to get the small hand brush for your upholstery and get the brush on a pole for your carpets. These are very easy to use and effective too. Just £12.95.
Rubber Broom Brush Set Pet Hair Remover Lint Hand Brush Rubber Sweeping Broom.
I scoured the internet for the best pet hair remover brush deals. There are all sorts of variants of these brushes. But just like anything else, you go with what you know. And that's exactly what I have done here for you.
In my business cleaning carpets and suites and rugs, I have both these brushes. I use them occasionally on carpets and fabrics. Whether it be cat hairs, dog hairs, or anything else that sheds its fur. These brushes work. I've cleaned up pet hairs on stairways, on mats, rugs, chairs couches and carpets. Not one time have I been defeated by pet hairs.
The idea and the best way to use these brushes is to do it slowly. Just brush slow and don't try to do too much all in one go. I always do it in 4 square feet at a time. And i always work slowly because that way you can pick up more pet hairs and get your carpets and suite pet hair free more effectively, if you do it slowly.
In my carpet cleaning service, I had a client who was no ordinary woman.
This lady hired me to vacuum clean her house from top to bottom every two weeks. She has a three story house. But what was so very different about this client was, she had 10 cats. That's right! 10 Cats. Can you imagine the problem this lady had with cat hairs? But I was like the knight in shinning Armour. I came to this lady's rescue twice a month. Vacuum cleaning alone was never going to remove cat hairs thoroughly. This was one job that I used my pet hair remover brushes. Together with a good vacuum clean, the house was given a new lease of life every two weeks.
Here's a quick video I found on youtube.
You are probably aware, that vacuum cleaning will not remove pet hairs from your carpets as you would expect. But these brushes will. So, if you'd like to be pet hair free in your home and in your car, then grab this offer now. Click the link if you want these brushes and you don't want to scour the web to find a better deal. I've already done that for you. This is the best deal I could find. So, don't delay, order your brushes now and be pet hair FREE in your home once and for all and for good.
You can get both products here for just £12.95. The carpet brush and the upholstery brush as a set. Simply click on the link above.
For USA you can go here pet hair remover brushes.
Here's a blog I found that offers help with dog hair removal.
There are all sorts of uses for this brush set. Not only do these brushes remove pet hairs from upholstery, carpets and curtains, they also do a multitude of tasks around the house.
Here's a second short video I found on youtube.
If you'd really like to buy this brush set, then I'm sure your pet hair problems are coming to an end.
Like I said to you earlier in this post, these brushes are robust. They are very hard wearing and will probably last you for a lifetime. Dog hairs and Cat hairs on you carpets and furniture can be a real problem. But this is the solution to that problem.
I'm sure you can see from the videos that these brushes will collect dog hair and cat hairs for you to just vacuum up. There's no hard work involved. Its easy, simple and effective.
Order today and be pet hair free within a week.
 Click the link now.
Rubber Broom Brush Set Pet Hair Remover Lint Hand Brush Rubber Sweeping Broom.
Today's Price is just £12.95 for the pair.
Summary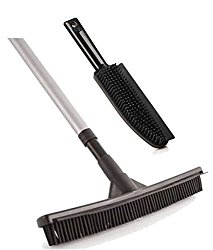 Author Rating





Brand Name
Pet hair remover brushes.
Product Name
Price
Product Availability
If you enjoyed this post, please consider to leave a comment or subscribe to the feed and get future articles delivered to your feed reader.