Here's how to use the pet hair remover brush.
This tool should be used on carpets and the small hand brush is used for upholstery. It can be really messy when you try to clean your carpets and there's a ton of pet hairs tangled up in the fibers.
The pet hair remover brush will effectively remove the hairs from your carpets and suite. Gradually bit by bit you brush them into a pile on your carpet or upholstery. You simply just brush a bit at a time so that you can effectively get all of the pet hairs into a pile.
How I normally do it is to simply brush a small area at a time, about four feet on carpets. Brush all around your small area and  gather the pet hairs into a pile. Then move on and do another small area. So, you should have a few or more small piles of pet hairs about 4 or 5 feet distance from each other.
When you think you have cleared your carpet of hairs, you simply just vacuum clean the piles of pet hairs up in to your vacuum cleaner. The pet hair remover brush has electro static rubber fibers and it is through these rubber fibers that it can collect the pet hairs from your carpets or suite. I have yet to find a better way to remove pet hairs from carpets and suites.
These brushes v
ary in price. Its always best to get the small hand brush for your upholstery and get the brush on a pole for your carpets. These are very easy to use and effective too.
You can get both products here for just £12.95. The carpet brush and the upholstery brush as a set. Simply click on the pic.
For USA you can go here http://amzn.to/2xso0lS
Summary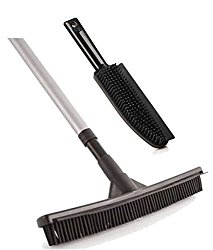 Author Rating





Brand Name
Pet hair remover brushes.
Product Name
Price
Product Availability
If you enjoyed this post, please consider to leave a comment or subscribe to the feed and get future articles delivered to your feed reader.