What To Use To Clean Carpet?
Proven Products That Won't Waste Your Valuable Carpet Cleaning Efforts Or Your Time.
Most people get confused about what to use to clean a carpet. Under the impression that a big powerful machine is ultimately the best, I'm afraid that's misleading! When you clean a carpet, I'm sure you don't want such a machine that it takes two people to move around your home.
The ideal DIY carpet cleaning machine is a small light weight machine which squirts and sucks. Just so long as it does these two fundamental tasks, then you can clean your carpets using it. Just one important point though, 'not every one can'. Why? Because, not everyone knows how to use a carpet cleaning machine effectively.
Yes, squirts and sucks is all you need. But even a large heavy weight machine with as much power as the fastest car in London won't always get carpets clean. Admittedly in theory a big machine is better. What most people lack and are without though, is the right technique for worthwhile carpet cleaning results.
What To Use To Clean Carpet.
You need a few simple tools, plus you need the right technique before you set about cleaning a carpet. Without these few fundamentals, you are in effect getting less than 30% soil extraction using any carpet soil extraction cleaning machine.
You want a worthwhile result from your DIY carpet cleaning efforts. Otherwise, rarely will you clean your carpets. Below is a list of items you MUST have in order to make a really good job of cleaning any carpet. Check these equipment suggestions out;
What To Use To Clean Carpet.
A carpet cleaning pre-spray solution for spraying onto your carpet before rinsing.
You need a carpet pile brush for agitating your carpet cleaning pre-spray solution.
You need a hand held scrub brush for removing carpet stains.
You need a carpet rinse solution to rinse out the brush agitated pre-spray solution.
Lastly, you need a carpet soil extraction cleaning machine to rinse out your pre-spray solution.
You can get these DIY carpet cleaning products here. Once you've got the few items of carpet cleaning equipment listed, suddenly, your carpet cleaning efforts become worthwhile! You won't be wasting your time and effort on getting little else but a poor result.
I'm offering you twenty years of carpet cleaning experience in your e book. You can get your copy now if you haven't already. You'll all so receive a FREE booklet with your e book which tells you about the carpet cleaning equipment, tools and solutions for your DIY carpet cleaning.
Simply click this link if you haven't yet done so and get your copies now. Then I can show you how to use the carpet cleaning equipment.  You'll have clean carpets all the time and all your friends will want to know how your doing it. My methods are from 20 years professional carpet cleaning experience and they really do work. If your wondering about what to use to clean your carpets, use my suggestions, they do work.
Until next time,
Shane Daley
PS. If you'd like me to help you find tools, solutions and machine hire in your local area, click here "equipment scout service."
Doesn't matter where you are, I can do a search on google. Also I know what I'm looking for. Click the link now if you'd like me to assist you.
Or, get your complete DIY carpet cleaning starter package here.
Summary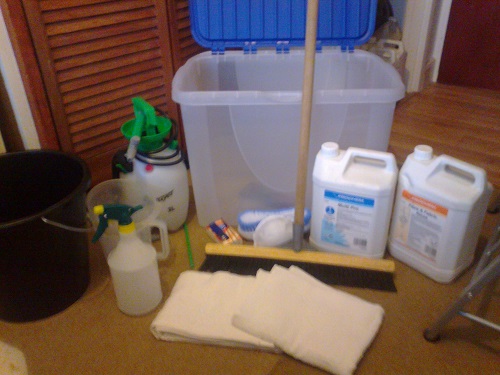 Author Rating





Brand Name
What To Use To Clean Carpet
Product Name
Complete DIY starter package
Price
Product Availability
If you enjoyed this post, please consider to leave a comment or subscribe to the feed and get future articles delivered to your feed reader.
114 Comments