DIY Carpet Cleaning Costs.
The Real Cost Of Keeping Carpets Ship Shape Clean
If you decide that you'd like to try my methods for cleaning your carpets, that's great. But what about the carpet cleaning cost's involved? Isn't it expensive using professional solutions and tools? And what products exactly would be needed?
If you are hell bent on using the methods for carpet cleaning which I have outlined, you'll save £££!
Here's why,,,
Once you have the few low cost tools and solutions, your carpet cleaning costs are almost complete. You can pick up the essentials tools and solutions in your town for probably under £70. From then on, you need only hire a carpet cleaning machine which again you get for less than £30 for 24 hours.
Or, have you thought about buying a machine new or used? E bay is a great place to start looking for a good carpet cleaner machine. You don't want anything super special, just something simple and cheap will clean your carpets.
I have a service which I offer to my subscribers, its called equipment scout. I just help get subscribers the tools and solutions and a machine. Sometimes I offer it FREE and other times I make a small charge. Go here if you are interested in my "equipment scout"service.
So let's say for instance that you are sure you want clean carpets 24/7. You have 3 rooms that you want to do every 6-8 months. Therefore, your initial costs for carpet cleaning tools and solutions is approximately £70. The tools and solutions will last you almost for a decade. Your only ongoing outlay is for the machine. You work it out. £30 machine hire costs or less, 4 times over 3 years that's just £120 for 3 rooms cleaned every 8 months over 3 years. Works out at £40 per year, that's just £13.30 per room per year. Cheaper than carpet re-placements, I'm sure you would agree.
Professional Carpet Cleaning Costs Can Hit The Roof.
My normal charges for this outlined type of carpet cleaning work was £76 for one room cleaned. £81 for 2 rooms and £117 for 3 rooms. You try getting a professional carpet cleaner in to do 3 rooms for under £100. You could find one, but I'm not sure what the quality of work would be like.
So why not do it yourself. As you can see from these figures, you'll save a bundle and your carpets will always look good and clean too. At just £13 per room per year, over 5 years cleaning, your carpet cleaning cost's is just £66.5 per room. But without cleaning, you'll probably be thinking about replacing your carpets within a few years. It makes good sense to clean and it makes good sense to clean them yourself.
You may like to use the Rug Doctor machine.
For just £22.00 plus your carpet cleaning chemicals, you can hire the rug doctor for 24 hours. Personally I prefer to carpet clean using a wand tool. But my preferred method isn't right for everyone.
Lots of people have used the rug doctor and many seem to give it praise. I have not used this machine myself. But that doesn't mean you must never use it.
You can get the rug doctor machines almost every where now. Or at least in every supermarket. Don't be afraid to give it a go. But if it doesn't measure up, then please do revert back to my teachings. I personally like to encourage people to use the wand type carpet cleaning with pre-spray and brush agitation.
The carpet cleaning methods which I have described on this site for you are top notch. You'll always get a great and lasting result.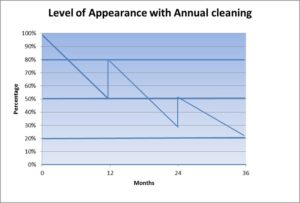 Lastly, you'll want to keep your carpets, they'll be too good to replace. Remember, carpet cleaning costs is just £13 per room per year. In 5 years, cleaning every 6-8 months you'll have great looking carpets that will last for many more years to come.
That's mathematically it from me for now,
Take care and clean well.
If you enjoyed this post, please consider to leave a comment or subscribe to the feed and get future articles delivered to your feed reader.
One Comment