Always Use A Carpet Cleaning Brush.
I Discovered How Important A Simple Carpet Brush Was To My Business. Here's What Happened To Me…
I remember one lady customer who invited me in to clean her lounge carpet. I set to work and got the job done within 1 1/2 hours. I charged £25. That night, after tea, off I went to the pub to get drunk! But one thing I remember so well about that particular job, was how I drenched the carpet. I simply just went over and over and over it again and again with the machine to remove visible soils.
The carpet got so wet, my guess is that it took at least two days to dry! Now the lesson in this story is about one tool which is The Carpet Cleaning Brush. If  I'd have had this one tool on that particular day when I drenched the ladies carpet, then things would have been better. If I'm honest, I did not even know that a carpet brush was available in those days. So who suffered? Well, everyone involved really. From the customer to the customers family, to me and my business.
One Day I Spotted This Brush For Carpet Cleaning At My Suppliers Store. I Was Immediately Overcome By What Was Missing In My Business.
I kind of knew intuitively how this cleaning brush would help me with cleaning carpets. Within a week I purchased a carpet pile brush and some pre-spray solution too.
My work resumed as normal, apart from one major fact. Suddenly, my carpet cleaning results shot through the roof!
I started getting absolutely magical carpet cleaning results and from much less effort too. This was not only good for my business but my customers too. It was like everything just turned around over night.
Very quickly, I started getting tons of referral work. I was regularly asked back to do a re-clean months later. It was a complete turn around for my business.
For the small cost of one of these carpet brushes, you can get exceptionally good carpet cleaning results yourself. It requires a bit of work to use the brush, but you simply go easy. Just do a small section at a time, about 4ft square.
Go here, how to use a carpet cleaning brush.
No other brush will be suitable for cleaning carpet in the same way. The Carpet Pile Brush pictured above was built for the job. If you try to use any other brush, the chances are that you'll either break the brush or you won't get the same great carpet cleaning results. You must use the right kind of brush. The term for it is "Carpet Pile Brush".
One Of Your Local Janitorial Supplies Stores Will Probably Sell You A Carpet Pile Brush.
But some suppliers may not stock it. Therefore you have to keep trying in order to get one. In the UK, probably 60% of all janitorial supplies stores will stock these brushes. But over seas, it may well be another matter.
Carpet cleaning tools and solutions available below.
You'll also need a pre-spray solution and a rinse solution in the extraction machine. The pre-spray solution is sprayed onto your carpet first using a pressure sprayer. Then you simply use your brush to agitate the pre-sprayed solution into your carpet pile. Then you rinse through with a good rinse solution in the extraction machine. Job Done!
If you don't buy here, you must search for the cleaning brush and eventually you'll find it. The Brush comes as just the head. You need to attach a normal brush pole onto it, but its easy. Anyone can attach a brush pole onto then head of a brush.
Do check out this vital tool. It will absolutely turn your carpet cleaning around. You get zero over wetting, you get a concentrated cleaning action, fast drying, and a thorough and lasting clean right down deep into the pile of your carpets.
Check out The Carpet Brush and put it to use in your home. It will probably last you for ever. So you only need to buy one. Then your carpet cleaning efforts and results will never be the same again ever.
Remember, pre-spray first, brush agitate with your brush, lastly rinse through using a carpet cleaner machine.
Thanks for now,
Shane Daley
Click Here To Get A Carpet Pile Brush NOW. UK £22.23
USA Link, product price $80.46 on Amazon. I could not find a cheaper carpet pile brush available on Amazon USA.
Cheapest I could find in the USA was e bay. Carpet Pile Brush PA3401. Price $35.62
USA distributor JON DON, they cover the whole of the USA. $23.45 for a Carpet Brush.
Do you have an effective substitute for a carpet brush? Let us know about it in the comments below.
Summary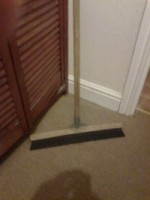 Author Rating





Brand Name
Product Name
Price
Product Availability
If you enjoyed this post, please consider to leave a comment or subscribe to the feed and get future articles delivered to your feed reader.
3 Comments